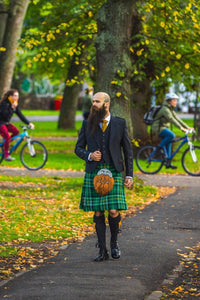 Combining stylised period details with smooth Arrochar tweed, the Charcoal Holyrood is a contemporary classic. It is a popular choice for daytime events, such as weddings and graduations. A happy halfway point between the Argyll and the Tweed. 
Package includes:
Handmade 8-yard mediumweight kilt

Charcoal Holyrood jacket and five-buttoned waistcoat

Wool hose

Brogues or ghillie brogues
Due to high demand and busy suppliers we cannot confirm delivery dates at this time. We are aiming for your order to be with you within a minimum 20 weeks minimum. If you have an event please contact our sales team directly. We apologise for the long lead times at the moment and we are working hard with our suppliers to bring this time scale down as soon as possible.

Contact us for more information.