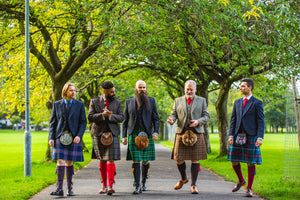 Book an appointment with one of our hire wear specialists. The appointment is for a singular individual and will be at 19-21 St Mary's Street, Edinburgh. It takes approximately 45-60 minutes.

Upon arrival at our St Mary's Street branch, please make yourself known to a member of staff. During your visit, you will select your hire wear requirements, your tartan styles and agree on the date that the hire is required for (this cannot be less than 4 working days).
A £10 non-refundable deposit is taken for the appointment which is then deducted from the overall price of the hire. If you cannot attend your appointment, please let us know no later than 24 hours in advance. 
For group bookings or to discuss your appointment further please get in touch with us directly on
0131 557 4349
gnkhire@gmail.com