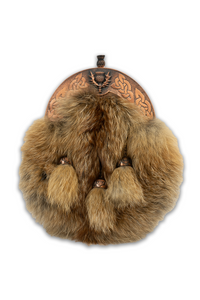 A handmade dress sporran with an intricately-worked heavy copper cantle (Pictured with red fox pelt).
FEATURES:

Material:

leather, fur, pewter, copper plate

Dimensions: 

15cm x 15cm x 5cm

Includes sporran chain
MADE BY:
Edinburgh-based W.E. Scott & Son is a family business, which has been lovingly hand-crafting traditional sporrans for four generations.
Currently posted within 4-6 weeks (subject to change)