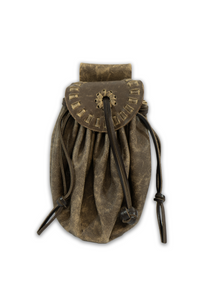 The Drover sporran is a close reproduction of an original 17th century belt purse, held by the Scottish Tartans Museum.  The deep hanging loop at the rear allows it to be worn to the front or at the hip by sliding along the supplied Pibroch 'Whang' sporran strap.  Closed using the Pibroch double-drawstring method.  Central knotwork tassel in the Celtic style.
FEATURES:

Material: leather

Dimensions: 17cm wide x 20cm deep (not including belt loop)

Includes Pibroch 'Whang' sporran strap in matching leather
MADE BY:
Pibroch Sporrans have been working entirely in leather, with no metal fixings or fastenings, since 1970. Their individually handcrafted pieces capture the function, feel and rugged character of the pre-1800s Scottish 'sporan'. 
Currently posted within 4-6 weeks (subject to change)