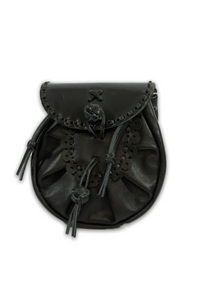 Capacious semi-pouch sporran.  Half-back in stout hide.  Soft gusset and front panel with generous pleats radiating from a decorative scalloped and punched hide apron.  Pibroch double drawstring closure.  Ball and slip loop fastening for security.  Front panel suede lined for interior luxury.  Cleverly tied knotwork tassels terminate the drawstrings and slip loop.  Slots cut in back for strap.
FEATURES:

Material: leather, suede lining

Dimensions: 18cm wide x 20cm deep

Includes Pibroch 'Whang' sporran strap in matching leather and 

attached 'Siller Poke' (coin purse) in matching leather
MADE BY:
Pibroch Sporrans have been working entirely in leather, with no metal fixings or fastenings, since 1970. Their individually handcrafted pieces capture the function, feel and rugged character of the pre-1800s Scottish 'sporan'. 
Currently posted within 4-6 weeks (subject to change)