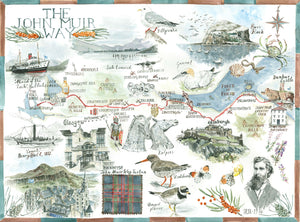 Commissioned to accompany the launch of the John Muir Way tartan, this beautiful art map tea towel tracks the route Muir took from Dunbar to the West coast in 1849.
FEATURES:
Material: 100% organic cotton

Dimensions: 50cm x 70cm

MADE BY:
Camilla Seddon is an artist and illustrator based in Edinburgh.
Posted within the week. Contact us to enquire about faster delivery.