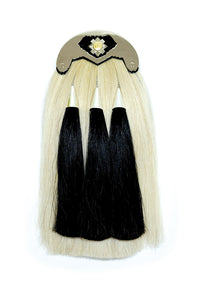 A current issue regimental horsehair sporran made to Ministry of Defence specification. Mounted with Regimental cantle and cap badge.
FEATURES:
Material:

leather, horsehair, pewter, suede 

lining

Dimensions: 25cm x 21cm x 5cm
Includes sporran chain
MADE BY:
Perthshire-based Margaret Morrison combines traditional patterns and techniques with modern design, cutting and etching technology to create beautiful handmade sporrans. 
Currently posted within 4-6 weeks (subject to change)